The Android ecosystem is quite diverse and there are many useful applications that can help us enjoy our smartphone to the fullest. Hence in this article, we will list out the Best useful Apps for Android that you can use for Android and you can get them from Play Store
Best Useful Apps for Android
AppLock
Rated as one of the best AppLock in the play store, AppLock ranks high among the Best useful Apps for Android devices. It is a useful security application used for locking Android applications and media. Choose the applications that you intend to lock, once you lock it. no one will be able to unlock.
Key Features
Lock apps with password, pattern, or fingerprint lock.
Vault: hide pictures and videos
Well-designed Themes
Incognito browser: no history record
Private SNS: log in multiple accounts
Intruder Selfie: take photos of invaders.
Customized background, select a favorite picture
Customized Profiles: set different locked app groups
Time Lock: auto-lock/unlock according to time
Location Lock: auto-lock/unlock according to location
Hide AppLock icon
Advanced Protection: prevent AppLock being killed by task killer
Random keyboard: prevent people peeping pin code
Force stopped cover
Lock switch (WiFi, Bluetooth, mobile data, sync)
AppLock widget: enable/disable AppLock with one tap
Quick lock switch: Lock/unlock in notification bar
Lock incoming calls
Lock system settings to prevent a mess by kids
Allow a brief exit: no need password, pattern, fingerprint again within set time
Prevent uninstalling apps
Low memory usage.
Power saving mode
The application that you pick will need a pass key. You can as well hide the icon of your application and then dial a code that is within your dialer to open. It is a free app that can be downloaded from the app store. Download on Play store Here
Google Assistant
We all know how useful the Google Assistant is, You can search literally anything on Google with this app. No doubt, it is among the Best useful Apps for Android you can use. It features include Money conversions, unit conversions, Google search, Voice command etc. It can serve as a reminder and can do many categories of stuff and can also be used to control your gadgets in the house.
WiFi Analyzer
The application let's you analyse the signal of your Wi-Fi. This is helpful if you want to know how strong the Wifi signal in your area is. Essentially, it helps to improve the performance of your Wi-Fi. The app also detects wifi channels in your locations which shows you the one that are less crowded. Download here
Google Keep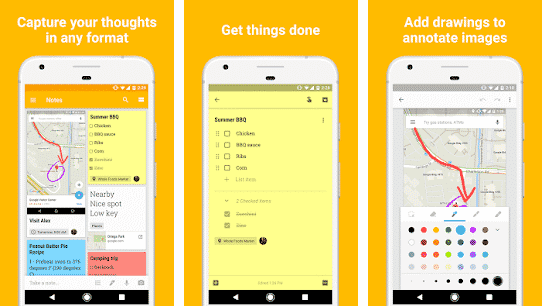 Google is among the most common applications used for taking notes. They have a rule which is to write in simple language and it is actually simple to make use of Google Keep. Tap 'take note' and this will start a note.
There are options for 'To Do List' and you can draw and record the note with picture. From the left swipe and you will see a label 'Reminders' where you can input trips, meetings etc.
You can quickly capture what's on your mind and get a reminder later at the right place or time. You can as well use voice memo on the go and have it automatically transcribed. Grab a photo of a poster, receipt or document and easily organize or find it later in search. Google Keep makes it easy to capture a thought or list for yourself, and share it with friends and family. Download Here
PhotoScan by Google Photos
PhotoScan is one of the Best useful Apps for Android. It lets you scan and save your favorite printed photos using your phone's camera. One great advantage of this app is that it helps you create an enhanced digital scans no matter where your photos are stored. Other features are
Glare-free scans with an easy step-by-step capture flow
Automatic cropping based on edge detection
Straight, rectangular scans with perspective correction
Smart rotation, so your photos stay right-side-up no matter which way you scan them. Download here
Screenshot Utility
If you are fond of taking many screenshots on your device, then this app is what you need. You can edit your screenshot on the go as well. It is among the best screenshot editor in the play store and is rated high on our list of the Best useful Apps for Android as well.
Key Features
You can Draw over screenshots and Highlight the part of the screenshot the way you want.
Use text mode to add custom texts to your screenshots or images.
Pick the colors and customize your drawings on the screenshot.
There is super flexible crop tool
You can apply blur on your screenshots
Easy to select multiple screenshots and delete them. Download Here

Conclusion
These are some of the Best useful Apps for Android and you can get them from Google Play and use them. Don't forget to ask your questions.